After years of searching I have achieved pizza dough perfection!
by Joel Steingart |
May 22, 2020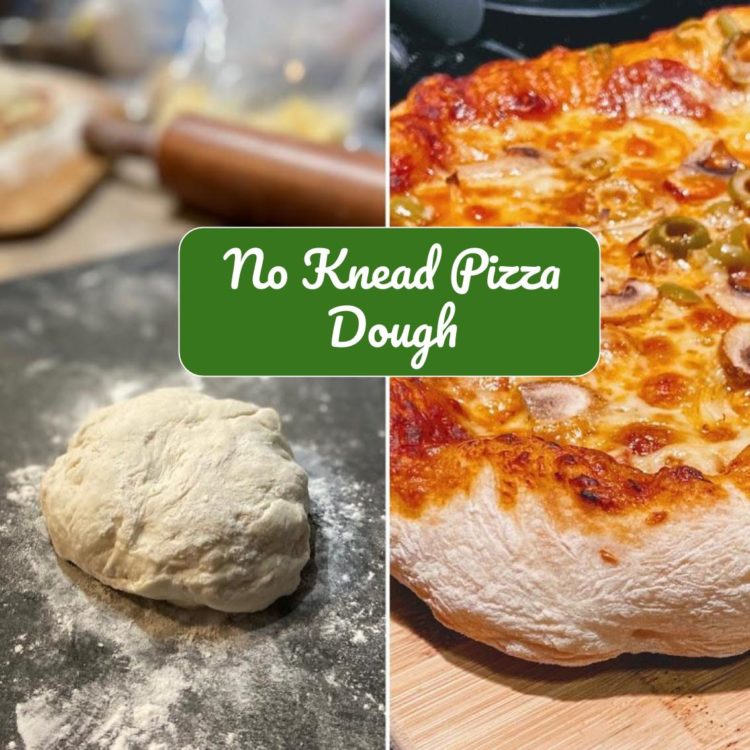 Friends, there is nothing more satisfying than making a perfect pizza! I'm talking beautifully caramelized cheese on the top, the toppings are fully cooked, and the crust is crispy on the outside, soft and chewy on the inside with a delicious flavour.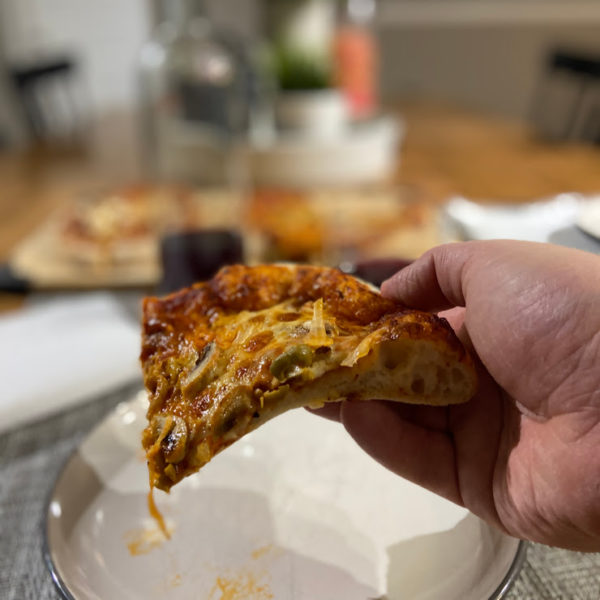 Over the course of trying different methods and recipes (like my double rise pizza dough recipe), I discovered no knead pizza dough. This dough is easy to make and has the best flavour of any I have tried. The most difficult part of this recipe is time. It takes some planning ahead. Like anything on leisureats, this recipe proves that time does in fact taste better!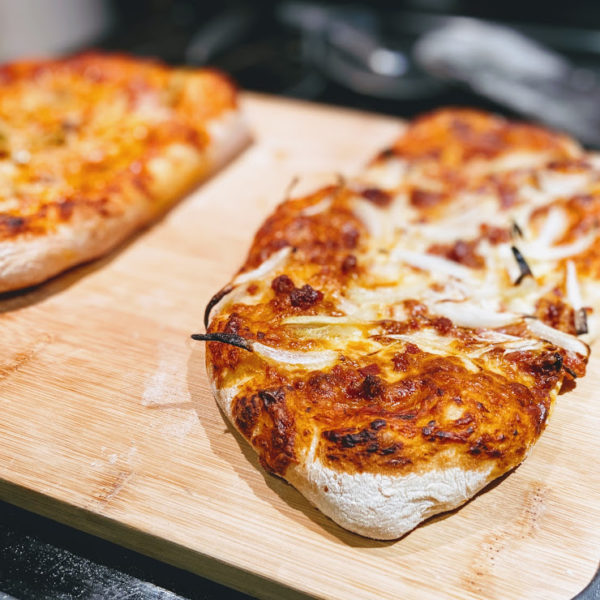 A few things to know about no knead dough. It takes about 18-24 hours from start to pizza so it's best to prepare ahead. This dough will keep in the fridge for a few days. Just make sure you wrap it in plastic wrap and allow it to sit on the counter for at least two hours before you want to work the dough. Kneading is the part of the process that forms the gluten which causes the dough to be nice an stretchy. As a result of not kneading the dough, this one is not as stretchy as some I have worked with. It's good to keep that in mind as you work the dough and for me it took a few times before I got my technique down.  A lot of this recipe is built around feeling things out, I admit it took me a few times to get the dough right in a few of the steps, but after the first few times I was able to see what I was looking for more and more. The first step has a really shaggy consistency, and the final steps is a stickier dough than a lot of people may be used to. The end result is so worth the time spent perfecting things. Because this dough tastes so good, make sure you don't forget about the toppings that help complete the experience. I highly recommend my scratch made pizza sauce to help build on all the flavour.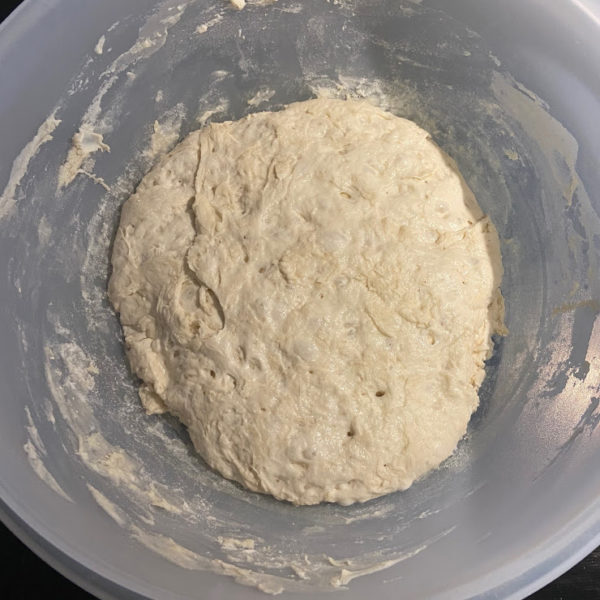 When you cook your pizza, I recommend using a pizza stone. You want to get your oven as hot as you can and the stone will help maximize the heat. For example, our oven maxes out at 525 degrees. I preheat the oven with the stone in it. When the oven reaches the max temperature, I let the stone sit inside for another half hour before sliding the pizza in. This helps to ensure everything is hot, hot, hot!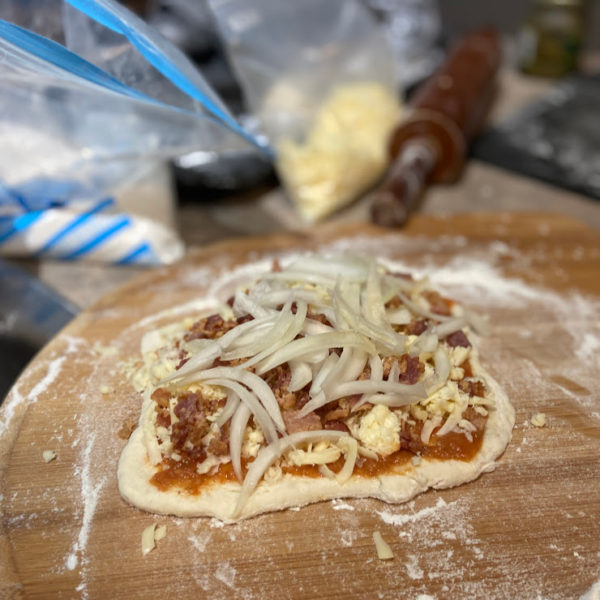 No knead dough is the best dough I have discovered for making pizza. That first time it was the most satisfying experience to pick the pizza up and see it hold together with a perfect amount of sag. The cross section of the dough had an airiness that made it light and fluffy and the flavour is second to none. The best compliment came from Danielle when she told me is passed the fork and knife test, meaning that unlike any other homemade dough, she didn't need a fork and knife to eat it because it held together so well when you picked it.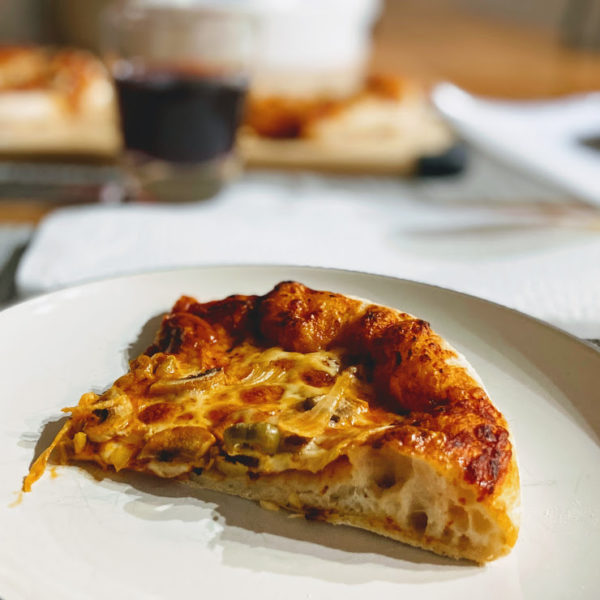 I can't recommend this dough enough. I felt so satisfied the first time it all came together. In some ways my journey to discover the perfect pizza had ended, but in so many more ways it had just begun!